International vacations are always fun, however like our PM who was then CM, sometimes us normal people are also refused visa. Other times we are just too lazy to go through the long documentation procedures. Well that's fine by us because this is a list of 14 places where Indian citizens can visit without any visa hassles.
Fiji is the perfect holiday destination. It has over 300 tropical islands in the heart of south pacific. Fiji is full of rugged landscapes and coral reefs. It is truly a breathtaking place.
Visa is not required for Indian citizens staying up to 120 days.
Saint Kitts and Nevis is a beautiful dual-island nation. It is situated right in the middle of the Caribbean Sea and Atlantic Ocean. It is known for Mount Liamuigi volcano which last erupted over 2000 years ago.
The best part is you can stay here without a visa for a good 3 months.
Micronesia comprises of around 600 small islands and 4 island states. Go there for ancient ruins like Nan Madol or its wreck-filled dives.
No need for a visa for a stay up to 30 days.
Situated near the South Pacific Ocean, Vanuatu is rich in coral reefs where you can go scuba diving. It also has underwater wrecks of the WW2-era troopship, SS President Coolidge.
Enjoy your stay here without any visa for 30 days.

Seychelles is an island country in East Africa and is home to nature reserves and innumerable beaches. It is known as the 'garden of Eden'. You can spot a rare giant Aldabra tortoise while strolling on one of its 115 islands.
The best part is you can stay here without a visa for a good 90 days.
Cambodia or the official kingdom of Cambodia is a Southeast Asian nation. Visit the place for its breathtaking mountains and low-lying plains. The ruins of Angkor Wat, a massive temple built during the Khmer Empire is a must visit.
Visa on arrival for 30 days sounds like a good deal.
Tanzania is home to Mt. Kilimanjaro which makes for trip for itself. The african country is home to Serengeti National Park populated by the "big five game" – elephant, lion, leopard, buffalo and rhino. Each safari comes with guaranteed thrills and a beautiful sunrise/sunset. Along with this, a visit to Zanzibar to experience Arabic culture and experience Mafia – Marine Park for sharks, whales and coral reefs.
Visa is available on arrival at all entry ports.
Pea of an island, Samoa is part of the Samaon islands in Polynesia. The south pacific country has blue skies reflecting in the water with a rich reef for snorkelling and hike worthy waterfalls.
60 days worth of absolute breathtaking views is what you can enjoy without a visa.
Maldives is unique in its structure itself. It is made up of 26 ring shaped atolls which are further composed of 1000 coral islands. A helicopter ride around is a must. Maldives is primarily known for its blue lagoons, beaches and reefs. The capital Male is also home to Majeedhee Magu and Hukuru Misikiy ( the Friday mosque) made entirely out of white coral.
The best part is you can stay here without a visa for a good 90 days.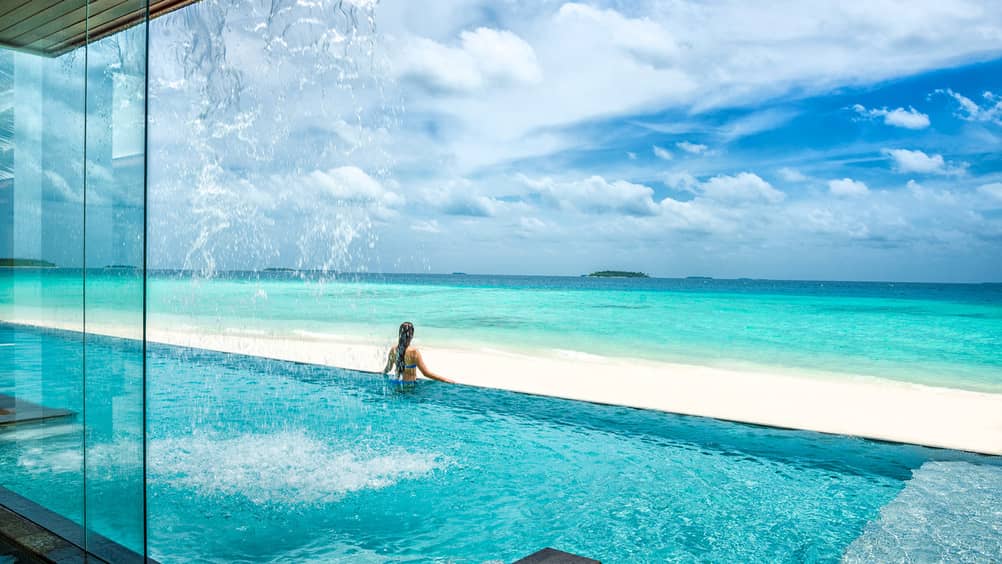 With water levels rising by the day, you want to make a trip to Mauritius while you still can. The island country's famed for its blue waters, clean beaches lagoons and reefs. The perfect relaxation cum adventure vacationing spot. With beaches surrounding the country, the mountainous interior included Black River Goerges National Park with rainforests, waterfalls, hiking trails, wildlife and botanical gardens. The most expensive purchases after the logistics will probably buying water.
The best part is you can stay here without a visa for a good 90 days.
Enjoy the Caribbean experience on a budget in Trinidad and Tobago. Located near Venezuela, the dual island hosts one of the best calypso and soca music carnivals. Rich in wildlife, Trinidad is famous for its bird sanctuaries at Asa Wright Nature Centre. Tobago also known for its hummingbird reserves also houses some of the most beautiful beaches in the world.
Indian citizens don't require a visa for 90 days.
Las Vegas of Asia, Macau is in the south of China across the Pearl Delta of Hong Kong. It is a strong blend of Portuguese and Cantonese culture from over 300 years. You can enjoy ancient ruins on one side and fine dine at the Venetian on another.
Enjoy a stay here without a visa for up to 30 days.
Located between Thailand and Vietnam, Laos- a country known for its mountainous terrain along the famous mother river, Mekong. The tropical country is rich as well as diverse in culture, ranging from Buddhist monasteries (one of which houses Buddha's breastbone) to French colonial architecture.
Enjoy your stay here without any visa for 30 days.
Nepal, our neighbour and the country known for the highest mountain in the world, Mt. Everest. It is rich in history and culture. You can visit the numerous temples, shrines, and palaces to make your trip worthwhile.
Nothing required by Indians to visit.
By Abhishek Aggarwal