Drivers spitting pan masala or gutkha out of moving cars by opening the window or doors are a common site in places like Noida. In a bizarre incident, a property dealer was hospitalized with severe injuries and later declared dead after he rammed his speeding Jaguar into the divider on a highway in Greater Noida, police said Friday. Greater Noida police said that the victim was alone in the car when the accident took place.
27 year old Prashant Kasana was a resident of Kasana Towers in Sector Alpha 1, Greater Noida and was travelling at around 120 km/h at the time of the incident according to eyewitnesses.  A private security guard who witnessed the accident said, "The car was coming at a high speed. Must have been around 120 km/h. Suddenly, the driver peeped his head out to spit gutkha/pan masala. He then lost control over the vehicle, which rammed into the divider." "I rushed to the spot and with the help of another passerby, who was in a Scorpio, rushed him to a hospital here," the guard, Mahaveer, said.
Following the accident, observers instantly took Prashant to Kailash Hospital in a critical condition. Post this; his parents shifted him to Apollo Hospital in Sarita Vihar by 9pm. The representative at the hospital said that despite their best endeavors, he took his last breath on Friday evening. No complaint has been enlisted however a PCR van was sent to the spot for further examinations.
A study of accidents on the Yamuna Expressway's section joining Noida and Greater Noida asserted, "Road fatality rates in India are probably among the highest and out of 1.25 million deaths worldwide every year, 8-10 per cent of all road deaths are in India."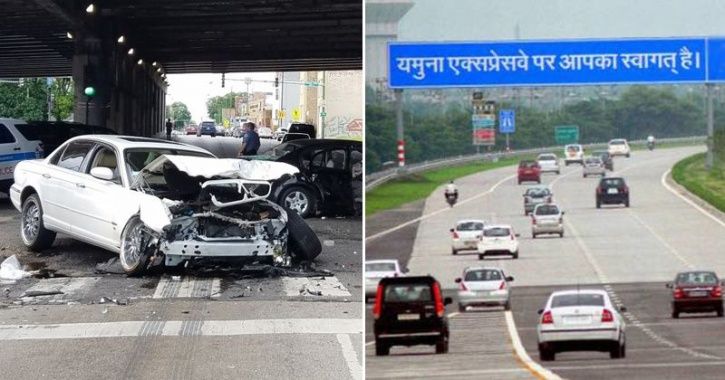 Spitting is not only a disgusting habit, it's also an unhygienic one. Only last month the Chief Minister of Maharashtra, Devendra Fadnavis has discussed the issue at a cabinet meeting and a committee will be formed headed by Health Minister Dr. Deepak Sawant. The State Government has come up with a law against spitting. This anti spitting law will make Maharashtra the first state to pass such a bill.
By Abhishek Aggarwal